How does a T-Rex cut wood? With his dino-saw
Join The Laser Cutting Discord
Features:
9″ Cutting Depth Capacity
14″ Cutting Width (Throat)
Supplied with High Quality British Made Blade
Precision Ground Cast Iron Work Table
Quick Action Locking On Rip Fence
Crosscutting Mitre Guide Included
Quiet Induction Motor
Mains Powered LED Work Light
Integral Dust Collection Tray
Includes Floorstand

Member experts can help you with your project or provide hand holding for the initial post induction workshop. We also have hire an expert if you need more individual help for some of the more advance hackspace equipment.
Model: Charnwood B350
Table Size: 545mm x 515mm
Table Height: 1020mm
Table Tilt: 0-45 degrees
Cutting Speed: 800 & 370m/min
Motor (induction): 1100w (1.1/2hp)
Blade Length: 2560mm
Blade Widths: 6-25mm (1/4″ – 1″)
1/1
Just some of the project created by our members on the laser cutter!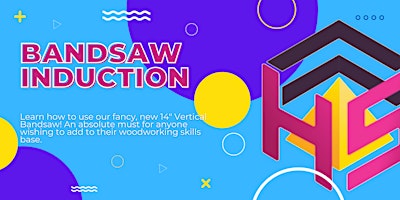 What's a musician's favourite tool?
A BandSaw... Duh